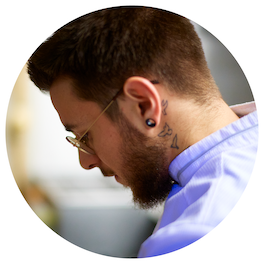 William
BLONDEL

Creative

Gastronomy

The history of the Forge at Fontaine-Daniel has always been closely linked to that of its chefs. Today, William Blondel, barely in his thirties, has been serving in the kitchen since June 2020.

After studying cooking in Laval, in Mayenne, he began to work in well-known and recognized regional establishments such as the Bistro de Paris in Laval, or the Manoir du Lys in Bagnoles-de-L'Orne. Then, with a thirst for discovering other cultures, he set off for Auckland, New Zealand, to work for a year at the Stamford Plaza, a 5-star palace.

Back in France, William Blondel is now constantly enriching his cuisine and nourishing it with herbs and condiments, and daring to make extraordinary alliances between local Mayenne products and exotic flavors.

A cuisine to discover, savor, and share.